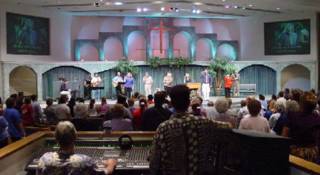 El Cajon Wesleyan
Today, i got to stop by our last home church. It was fun to see all the familiar faces. The music was pretty much the same style, the service had a good feel to it, and the new senior pastor Stephen Forsyth had a great message. There were still changes but it awesome to see how God continues to bless and grow the body of Christ everywhere!
It was pretty crowded
I went to Flood that night and i sang Holy and Anointed One and it struck me...
Your name is like honey on my lips
Your Spirit is like water to my soul
Your Word is a lamp unto my feet,
Jesus i love you, I love you.
And i sat there and thought, these words are truth, but are they truth in my own life?
Is His name so sweet that i crave talking about him like i crave chocolate?
Is His Spirit and time with him essential for me to get through the day or can i do without?
Is his Word really what's guiding me or is it just giving me hints/suggestions in my life?
and then i came to this final question... i know i am okay and not rebelling...
but am i challenging myself to go to new heights in my walk? How have I challenged myself in a new way this past month? Somthing to think about!